THE PERFECT GIFT FOR CHILDREN!

Tired of giving your kids boring toys that no one plays with anyway? Then our MyPlushHamster™ Domino Train Toy is just what you need! The domino train automatically places the dominoes at a distance of 1.5cm. Change direction as needed with the simple controls and let your child lay a pattern. Embellish the experience with the light and sound. Great fun for all children and the ideal gift for any child.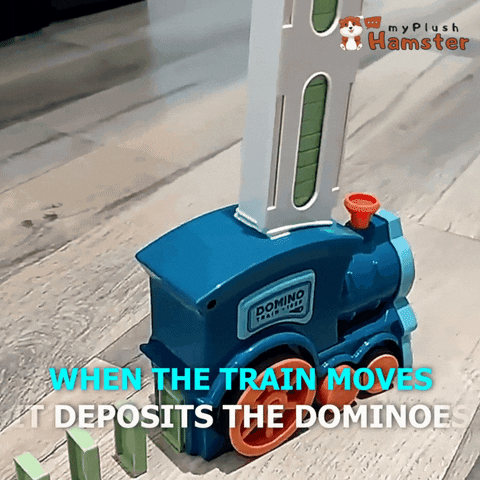 BENEFITS OF THE DOMINO TRAIN TOY
✅ Perfect Educational Toy For Gifting

✅ Automatic Placement

✅ Easy Control

✅ Sound & Light

✅ Domino Holder & Cactus Direction Changer

✅ Battery Operated (Batteries Not Included)

✅ Child & Pet Friendly

✅ 30 Days Warranty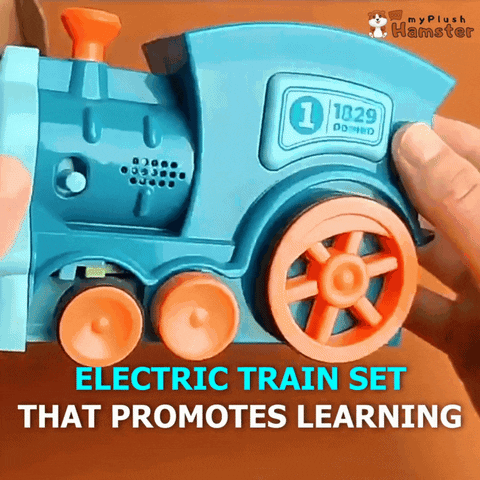 AUTOMATIC PLACEMENT
Everyone knows when you set up your dominoes and only one brings everything back down. The MyPlushHamster™ Domino Train Toy automatically places all your dominoes 1.5cm apart and without the dominoes falling over on their own. Surprise your child and have fun together with this fun toy. 
EASY CONTROL
MyPlushHamster™ Domino Train Toy has a very easy control. Using the control lever, you can easily choose the direction of the other dominoes. This way you can create different patterns and shapes. With the help of the included cactus direction changer, you can connect different shapes together. Additional fun is provided by the various sounds and light effects, so that your child never loses the friends on the domino train. 
HOW DOES THE TRAIN WORK?
Step 1: Open the domino container and place your desired dominoes inside.

Step 2: After you have closed the domino container again, you only have to put it on the domino train.

Step 3: If necessary, check if the batteries are inserted and still have power. Then press the on/off button to turn on the train.

Step 4: Done! The train will start laying out the dominoes automatically and the fun can begin.
WHAT DO I GET?
The MyPlushHamster™ Domino Train Toy includes your domino train in your choice of color, at least 60 dominoes in different colors, a domino container, a cactus direction changer and high quality packaging. It's a great gift for kids who want to learn through play. Secure your next gift for your child now and take advantage of our fast, insured shipping and 30-day money-back guarantee.